PRO DAY – ESPN GRANTLAND SHORT FILM from R&D MEDIA on Vimeo.
Many people see my story as one about heartbreaking loss. But I see it more as a story about unimaginable opportunity. Have I had to overcome immense challenges and overwhelming tragedy? Yes. But then again, moving forward from every difficult experience has made me who I am today, because I choose to see it that way.
Born and Raised In Shreveport
I was born on May 10, 1991 in Shreveport, a city in the northwest corner of Louisiana, near the point where Arkansas, Texas, and Louisiana meet. Growing up, I was blessed to be surrounded by three strong brothers: LaCourtney, Tobias, and Tomarious.
Loss is something I became familiar with at a young age. When I was 6 years old, my father was murdered, leaving my mother to raise the four of us on her own.
That's something I'll always be grateful for. My mom was the picture of perseverance and dedication, and I wish I was cherishing her today instead of just her memory — when I was 15, the same year my best friend was murdered, my mom was cheering me on at my high school basketball game when she had a stroke and passed away. Her hardworking spirit lives on with me to this day.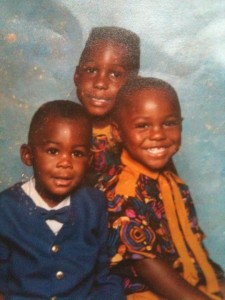 From that moment on, my brothers and I were forced into adulthood by circumstance. We were all each other had, so we chose to grow up quickly rather than split up between family members. Not being together was never an option. LaCourtney, who was 19 at the time with a newborn daughter to care for, stepped up to run the household. It was never easy, but he worked tirelessly to keep the lights on, put food on the table, make sure we were going to school, and keep us out of trouble.
Football Was My Escape
At this point, football was playing a huge role in my life — it was a source of stability and passion. I started playing football in Shreveport at the age of 9 with Tobias, who was 11, so I started out two age groups up. At Green Oaks High School, I played both wide receiver and defensive back. During my senior year I caught 53 passes for 1,064 yards and 12 touchdowns on offense and recorded four interceptions on defense.
It was then that I started to believe in myself and in my abilities. I realized that what had happened to me didn't have to define me. I was being given the opportunity to move past the hardships and choose a positive path.
That year, I took my first-ever plane ride to visit Nebraska and Missouri to explore my future in football. Missouri had a different feel than any campus I'd ever set foot on—the coaches, the weather, the atmosphere, it all stuck with me.
I was devoted to my brothers and to keeping our family together…
I was devoted to my brothers and to keeping our family together, so I committed to Louisiana Tech to stay close by. The day before National Signing Day, though, I couldn't seem to get Missouri off my mind. The team had just come off a great year, led by Chase Daniel, and it was an exciting place to continue my football career. The incredible and selfless support from my brothers finally led me back to the University of Missouri, where they knew I could truly make something of myself.
In the 2011 season, I caught my first three college touchdowns and recorded 20 catches in all—and I even got the chance to play at home. At the end of the 2011 season, I returned to Shreveport to play in the Independence Bowl with my teammates. It was a special moment, going back to my roots.
T
he 2012 football season was Mizzou's first foray into the SEC. I was proud to contribute 443 yards and 2 touchdowns in 2012, before putting up career-best performances my senior year in receptions (50), receiving yards (893) and touchdowns (10).
Mizzou Made
Mizzou opened up doors for me that I never expected I'd have the chance to walk through. By the time I started my senior season, I had graduated with a bachelor's degree in psychology. While at Mizzou, I also got the chance to volunteer with the Boys and Girls Club and the Food Bank of Central and Northeast Missouri, and I was able to tell my story to youth organizations, juvenile detention centers, and schools in the Columbia area.
Since graduation, my desire to play professional football has taken me all over the country—Cleveland, Dallas, San Francisco, Miami, and beyond. Until I have the chance to prove myself on Sundays, I continue to practice hard, learn new things, and stay true to myself.